25.1.2010 Carl-Dag Lige
Blue-Collar Blues at the Tallinn Art Hall and Gallery, 23.12.2009 – 31.01.2010, curator Anders Härm
(Suomeksi alla, in Finnish see below)
The world wide economic crisis has triggered artists and curators to reflect the situation critically. Like in many other regions, unemployment is also quickly increasing in the Baltic countries. Estonia has currently more than 100.000 unemployed persons, which is more than 10% of the working-aged people of the country. Anders Härm, an Estonian curator who is known for his socio-critical approach, has arranged a large international exhibition from artists who have considered labour issues in their creative practice. Blue-Collar Blues is exhibited in two places, Tallinn Art Hall and its Gallery.
Kalleinen&Kochta-KalleinenThe latter is exclusively dedicated to Dario Azzellini's and Oliver Ressler's video-installation 5 Factories – Worker Control in Venezuela (2006). Art Hall exhibits works from more than 20 artists who come from Mexico, Belgium, Austria, Finland, Spain, Germany, France and Estonia. Exhibitions are accompanied by additional events including screenings, performances and a workshop for young artists. The seminar Citizen's Position in Labour Relations brings together politicians, sociologists, labour union leaders, artists and critics to discuss social hierarchies in contemporary society.
Majority of artworks presented in Blue-Collar Blues are short-movies and video installations. Yet, one of the most impressive works is a series of photos by Santiago Sierra, a Spanish artist working in Mexico. 89 Huichols (2006) comprises 89 posters of Native-Mexican workers who belong to the Huichol ethnic group. All photos depict the scruffs of Huichol men and women, people, whose culture and traditions are threatened by the politics of Mexican government and local farmers.
Huichols do not have the concept of private property, nor do they have the word 'money' in their local Wixarika language. Huichols are one of the last native tribes who have preserved their pre-Columbian traditions. Their collectivist way of living doesn't fit together with the rules of global capitalism. Santiago Sierra photos reveal the social inequality experienced by Huichols as a result of global capitalism that is inconsiderate, not to say hostile, towards those traditions and practices which are not based on the rules of capitalism.
89 Huichols
Sierra's approach and explicit critique of capitalism is a characteristic example of artworks presented in the exhibition. Curator Anders Härm is known for his left-oriented worldview and in my opinion, the whole exhibition, comprising of more or less socio-critical works of contemporary art, could be considered as a direct critique to the liberalist politics of the Estonian government, that has dominated from the very first days when the country re-gained its independence in 1991. Without doubt, the exhibition is also a passionate reflection on the current global economic crisis. In the bulletin of the exhibition, Härm states:
Through symbolic gestures, direct actions, as well as relational projects, the Blue-Collar Blues exhibition attempts to give meaning to labour issues at a time that can rightfully be called global capitalism's greatest crisis.
Härm, whose approach is consciously political, has gathered a set of artworks, which mainly focus on individual's experience of contemporary labour relations. Some of the works in Blue-Collar Blues are documentations of interventional art projects, while others focus on experiences of individual people, who have more or less directly been influenced by changes in global economy. Several artworks take a conceptual, abstract or symbolic approach to capitalism and the way it influences society in general and individual in particular. Here I will introduce and interpret some of my favourite artworks from Blue-Collar Blues.
Marge MonkoMarge Monko's video Foorum (2009) is a re-staged political TV-show where amateur actresses perform the roles of Estonian politicians, trade union leader and representative of the Employers' Association debating on the new Estonian Employment Contracts Act, which came into force on the 1st of July 2009. Monko's work addresses the problems of the Estonian Russian-speaking minority (all the actresses in the video have a Russian ethnic back-ground) since in the original broadcasting all the participants were middle-aged Estonian men. Monko's work could be considered as a critique to decision-makers' (politicians, employers, organisation leaders) inability to deal with the forces, which cause social inequality.
One of the internationally renowned artists exhibited at the Art Hall is Francis Alÿs, a Belgian who lives and works in Mexico City. Alÿs' video Politics of Rehearsal (2005-2007) is an allegorical story about Mexican democracy and modernity. Just like the stripper, performing in the video, whose ritual of seduction gets only half way because her performance is repeatedly interrupted, the modernisation and democratization process in Mexico has been several times cancelled during the 20th century. Alÿs's work seems to refer to the main deficiency of Modernism and Democracy – that they seem to be mere ideals and ideologies, and not a state of reality, which could be fully reached.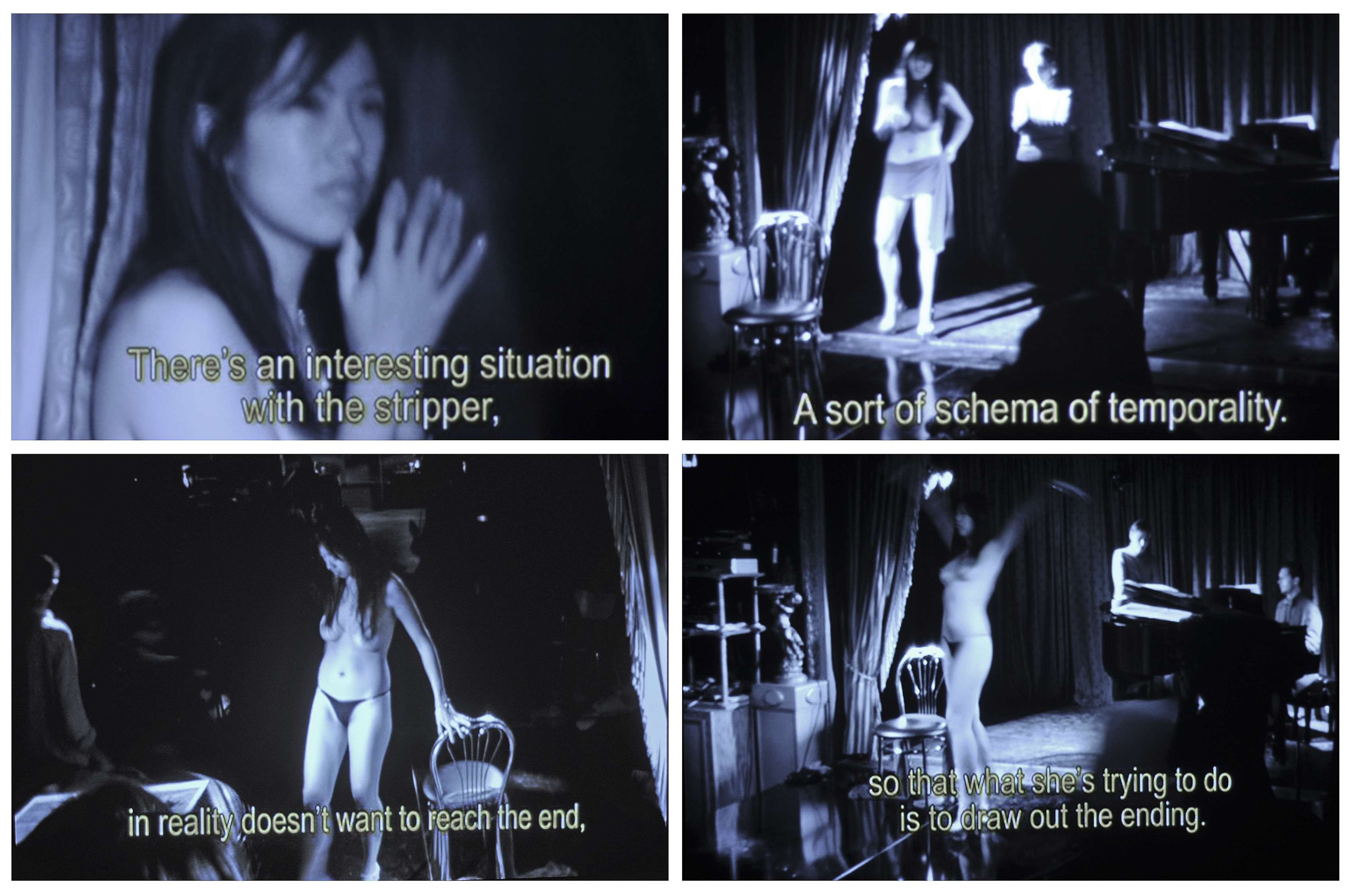 Francis Alÿs
Dario Azzellini's and Oliver Ressler's video-installation 5 Factories – Worker Control in Venezuela (2006) fills the spaces of Art Hall's Gallery. It is a large-scale documentary project consisting of 6 videos filmed in the factories of Venezuela. The country, which has been a place for political turmoil and is currently led by a left-wing populist president Hugo Chavez, is experiencing considerable financial difficulties because of government's decisions. Azzellini and Ressler documented the working process in the so-called Social Production Companies (ESP), companies which are not governed and owned by a corporate body but by the workers. As social enterprises ESPs, where all workers are equal, could be considered as a potentially humane alternative to corporate organisations, where workers are often treated as inferior to their executives.
But Azzellini's and Ressler's work leaves unclear whether ESP's are able to function efficiently in the long run. In Venezuela, ESP's get a large support from the government and would not be able to invest in technology nor the well being of their employees without the governmental subsidies. In my opinion, Azzellini's and Ressler's videos present the workers in somewhat theatrical way. The rhetoric of the workers interviewed and their stiff pose suggest that the situation is staged. Therefore it is unclear whether Azzellini and Ressler truly believe in the ESPs alternative.
Blue-Collar Blues also presents three works from an Irish artist-duo Kennedy Browne (Gareth Kennedy and Sarah Browne), who has recently criticized Neo-Liberalist ideology in the free-market economy. Kennedy Browne's work 167 (2009) is a seven-minute two-channel video film that depicts Dublin's cityscape and a woman sharpening a pencil on the roof of a high-rise. The pencil refers to economist Milton Friedman's widely used example of a simple graphite pencil as a product, which only exists due to the logic and system of free-market economy.
Kennedy Brown
In 167 a woman starts to sharpen the pencil and does not stop until the pencil is finished. Number 167 also refers to the amount of different language groups in Dublin, a contemporary metropolis, which was considered monocultural only a couple of decades ago. Kennedy Browne's video is laden with social connotations but it also has a very strong visual character. The rhythm, composition and clarity of the work are captivatingly intense. 167 is a good example of contemporary work of art, which is able to stimulate conceptual interpretations as well as to provide aesthetic pleasure due to its visual qualities.
Blue-Collar Blues Tallinnassa
Maailmanlaajuinen taloudellinen lama on pannut taiteilijat ja kuraattorit tarkastelemaan tilannetta kriittisesti. Työttömyys on nopeasti noussut Baltian maissa. Virossa on parhaillaan enemmän kuin 100 000 työtöntä mikä on enemmän kuin 10 % maan työikäisistä. Anders Härm, virolainen kuraattori joka on tunnettu yhteiskuntakriittisestä lähestymistavastaan on järjestänyt laajan kansainvälisen näyttelyn taiteilijoilta jotka ovat käsitelleet työhön liittyviä aiheita taiteellisessa käytännössään.
Blue-Collar Blues näyttely on kahdessa paikassa Tallinnan taidehallissa ja sen Galleriassa. Jälkimmäinen on omistettu pelkästään Dario Axellinin ja Oliver Resslerin video installaatiolle 5 Factories – Worker Control in Venzuela (2006). Taidehalli esittelee teoksia enemmältä kuin 20 taiteilijalta Meksikosta, Belgiasta, Itävallasta, Suomesta, Espanjasta, Saksasta, Ranskasta ja Virosta. Näyttelyihin liittyy lisäksi tapahtumia kuten elokuvia, performansseja ja workshop nuorille taiteilijoille. Seminaari Kansalaisen asema työsuhteissa kokoaa poliitikkoja, sosiologeja, ammattiyhdistysjohtajia, taitelijoita ja kriitikoita jotka keskustelevat nyky-yhteiskunnan sosiaalista hierarkioista.
Suurin osa Blue-Collar Bluesin teoksista on lyhytelokuvia ja videoinstallaatioita. Kuitenkin yksi kaikkein vaikuttavimmista teoksista on Meksikossa työskentelevän espanjalaisen Santiago Sierran valokuvasarja. 89 Huichols (2006) käsittää 89 muotokuvaa Huicholien etniseen ryhmään kuuluvista työläisistä. Kaikki kuvat esittävät Huichol ryhmään kuuluvien miehiä ja naisia takaapäin. Heidän kulttuuriaan ja perinteitään Meksikon hallitus ja paikalliset maanviljelijät uhkaavat. Huicholeilla ei ole yksityisomaisuuden käsitettä eikä edes sanaa 'raha' Wixarika kielessään. Huicholit ovat viimeisiä ryhmiä, jotka ovat säilyttäneet esi-Columbialaiset perinteensä. Heidän kollektiivinen elämäntapansa ei sovi yhteen paikallisen kapitalismin kanssa. Santiago Sierran valokuvat paljastavat Huichlien kokeman epätasa-arvon, joka johtuu globaalista kapitalismista ; se on tyly, ellen sanoisi vihamielinen sellaisia traditioita ja käytäntöjä kohtaan, jotka eivät perustu kapitalismin sääntöihin.
Sierran lähestymistapa ja eksplisiittinen kriittisyys on luonteenomainen esimerkki näyttelyn teoksista. Kuraattori Andres Härm on tunnettu vasemmistolaisesta maailmankuvastaan ja mielestäni koko näyttelyä, joka koostuu enemmän tai vähemmän kriittisistä teoksista, voisi pitää suorana kritiikkinä Viron hallituksen liberalistiselle politiikalle, joka on ollut dominoivaa heti maan 1991 tapahtuneen itsenäistymisen ensi päivistä alkaen. Epäilemättä näyttely on myös intohimoista pohdiskelua nykyisestä taloudellisesta kriisistä. Näyttelyluettelossa Härm sanoo:
Blue-Collar Blues näyttely yrittää antaa merkitystä työlle symbolisten eleiden, suoran toiminnan kautta hetkellä, jota voidaan oikeutetusti kutsua globaalin kapitalismin pahimmaksi kriisiksi.
Härm, jonka lähestymistapa on tietoisen poliittinen on koonnut joukon teoksia jotka keskittyvät yksilön kokemukseen nykyisissä työsuhteissa. Jotkut dokumentoivat interventionaalisia taideprojekteja, jotkut keskittyvät yksittäisten ihmisten kokemuksiin, jotka ovat joutuneet tekemisiin globaalin talouden vaikutusten kanssa. Useat teokset ovat käsitteellisiä, abstrakteja tai symbolisia lähestymistapoja kapitalismiin ja tapoihin joilla se vaikuttaa yhteiskuntaan yleensä ja yksilöön erityisesti. Seuraavassa esittelen ja tulkitsen joitakin suosikki teoksiani Blue Collar Bluesista.
Marge Monkon video Foorum (2009) on uudelleen näytelty poliittinen TV-show, jossa amatöörinäyttelijättäret esittävät virolaisten poliitikkojen, ammattiyhdistysjohtajien ja Työläisten liiton edustajia jotka kävivät debattia uudesta Viron Työehtosopimuksesta, joka tuli voimaan 1. Heinäkuuta 2009. Monkon työ lähestyy Viron venäjänkielisen vähemmistön ongelmia (kaikilla näyttelijöillä on venäläinen tausta) sillä alkuperäisessä TV-lähetyksessä kaikki osallistujat olivat keski-ikäisiä virolaisia miehiä. Monkon teosta voisi pitää kritiikkinä päätöksentekijöiden (poliitikkojen, työnantajien, yhdistysten johtajien) kyvyttömyydestä kohdata voimia, jotka aiheuttavat sosiaalista epätasa-arvoa.
Yksi Taidehallissa esiintyvistä taiteilijoista on kansainvälisesti tunnettu Francis Alÿs, belgialainen, joka työskentelee Meksikossa. Alÿsin video Politics of Rehearsal (2005-2007) on allegorinen tarina Meksikon demokratiasta ja modernisaatiosta. Aivan kuten videolla esiintyvä strippari, jonka rituaalimainen viettely jää aina puolitiehen, koska hänen performanssinsa aina keskeytetään, Meksikon modernisaatio ja demokratisaatio prosessi on useita kertoja peruutettu 20. vuosisadalla. Alÿsin teos näyttää viittaavan Modernismin ja Demokratian pahimpaan ongelmaan, siihen, että ne ovat pelkkiä ihanteita ja ideologioita, eivät todellisuutta, joka voitaisiin täydelleen saavuttaa.
Dario Azzellin ja Oliver Resslerin video-installaatio 5 Factories – Worker Control in Venezuela (2006) täyttää Taidehallin Gallerian tilat. Se on laaja dokumenttiprojekti joka koostuu kuudesta videosta, jotka on tehty Venezuelan tehtaissa. Maa joka oan ollut poliittisen sekasorron näyttämö ja jota johtaa parhaillaan vasemmistolainen populisti presidentti Hugo Chavez, kokee melkoisia taloudellisia vaikeuksia hallituksen toimien johdosta. Azzellini ja Rossler dokumentoivat niin kutsuttujen Social Production Companyjen (ESP) toimintaa. Nämä yhtiöt eivät ole hallituksen vaan työläisten hallussa. Sosiaalisina yrityksinä ESP:t missä kaikki työläiset ovat tasa-arvoisia, voisivat olla potentiaalisia humaaneja vaihtoehtoja korporaatioille, joissa työläisiä kohdellaan usein alaisina.
Kalleinen&Kochta-KalleinenII
Mutta Azellinin ja Rosslerin teos jättää avoimeksi kykenevätkö ESP:t toimimaan kunnolla pitkällä tähtäimellä. ESP:t saavat suurta tukea hallitukselta, eivätkä kykenisi investoimaan teknologiaan eivätkä työläisten hyvinvointiin ilman hallituksen tukea. Mielestäni Azzellinin ja Rosslerin videot esittelevät työläiset vähän teatraalisesti. Haastateltujen työläisten retoriikka ja jäykkä poseeraus vihjaavat siihen, että tilanteet on lavastettu. Jää epäselväksi uskovatko Azzellini ja Rossler todella ESP vaihtoehtoon.
Blue-Collar Blues esittelee myös kolme teosta taiteilijaduo Kennedy ja Brownelta, joka on myös viime aikoina kritisoinut vapaan markkinatalouden uusliberalismia. Kennedy ja Brownen työ 167 (2009) on seitsemän minuuttinen kaksikanavainen videofilmi, joka kuvaa Dublinilaista pilvenpiirtäjää ja naista, joka teroittaa kynäänsä korkean rakennuksen katolla. Lyijykynä viittaa Milton Friedmanin kuuluun esimerkkiin yksinkertaisesta lyijykynästä, joka on olemassa vain vapaan markkinatalouden logiikan ansiosta. 167:ssa nainen alkaa teroittaa kynäänsä eikä lopeta ennen kuin kynä on kulunut loppuun. Luku 167 viittaa myös Dublinin, tämän nyky-metropolin erilaisten etnisten kieliryhmien määrään, vielä vähän aikaa sitten Dublinia pidettiin yksikulttuurisena. Kennedy Browin video on ladattu sosiaalisilla merkityksillä mutta sillä on myös erittäin vahva visuaalinen ilme. Teoksen rytmi, kompositio ja selkeys ovat vangitsevan intensiiviset. 167 on hyvä esimerkki nykytaideteoksesta, joka kykenee stimuloimaan käsitteellisiin tulkintoihin yhtä hyvin kuin tuottamaan esteettistä mielihyvää visuaalisilla ansioillaan.