Written by Nikolai Sadik-Ogli 12.5.2015
Photos by Jandek / Corwood Productions
Jandek released his first album in 1978 and performed his first live concert in 2003. That first show was also filmed, marking Jandek's first foray into the new medium, an interest that has since then led to one excellent concert film, a short movie, and fourteen concert DVDs released by his independent record label, Corwood Industries. Most recently, St. Louis Friday and Brussels Saturday mark the first times that Corwood has released a concert film directly as a catalogue entry without any companion album.
Jandek's work in film should be seen an extension of the photography from the album covers, especially with regard to the numerous self-portraits. For example, like the frames in a film, the covers of Graven Image (Corwood 0761, 1994) and Glad to Get Away (Corwood 0762, 1994) appear to have been taken mere steps away from each other.
Jandek: Blue Corpse (1987)
More importantly, the Futurist portrait on the cover of Blue Corpse (Corwood 0753, 1987) expands the capabilities of a single frame by depicting the artist as a blur while in motion.
Jandek performed and filmed his first show at the Instal Festival in Glasgow, Scotland, on 17 October 2003. The appearance by a Representative from Corwood (which is how Jandek refers to himself at shows) had not been announced beforehand and was only confirmed afterwards. The show, in which Jandek played electric guitar in a rock power trio with bass and drums, was filmed by two cameras and released as Glasgow Sunday, the first live album and DVD from Corwood, unlike anything that could previously have been expected to appear from the cryptic label. The DVD included the footage from both cameras, along with a more cinematic "2 Camera Mix Edit", which represents Jandek's first concert film.
London Tuesday documents Jandek's first solo performance from 18 October 2005. As one man with an acoustic guitar, it finally unveiled the source of the original sound and solitary ambience that created the mystique that fueled the ongoing interest in his work and identity. In a brilliant maneuver, the highly anticipated show was filmed in a way to completely deflate any expectations and instead overemphasize the uniqueness of the occurrence: the shaky camera is set above the stage and never stops zooming and panning in an unhinged manner, thus providing only an indirect glimpse of the Representative, who is obscured by a hat. The grainy film is an aesthetic equivalent to the amateurish footage that periodically surfaces of an alleged Bigfoot or UFO.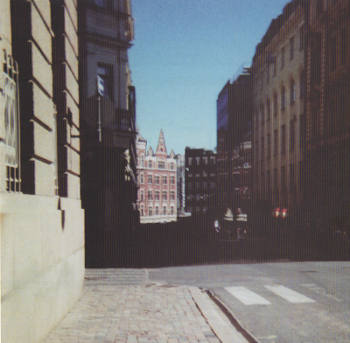 Jandek: Toronto Sunday (2011)
In contrast, Jandek's most important movie,Toronto Sunday, was professionally produced, complete with title cards, even though they do not credit any of the other musicians or film crew who were involved.[1] The movie's rich multi-layering and expert editing coupled with the slow unfolding of the dramatic music, played by Jandek on new age synthesizer backed by string bass, guitar, and percussion, create a luxurious and eminently watchable atmosphere. Toronto Sunday is one of Jandek's most ambitious concert films; it was publically screened twice at festivals in 2007 and relegates the companion CD to the status of a soundtrack album. Even so, the film is presented on the two-disc DVD box set as just an optional "Edit Mix" along with the footage from all five cameras.
Corwood made its first foray into pure cinema by directing and editing kooken (2014), a thirty-minute, black and white short film, billed as a one act play created by Randy Reynolds and Christopher Kim.[2] The film begins with Jandek and his new primary collaborator, Sheila Smith, taking a walk outside, while one of the instrumental piano and theremin "Fantasies" from Ghost Passing (Corwood 0814, 2014) plays in the background. They go sit in a yard to discuss various issues in art and life. The last scene cuts to a conversation with Jandek in front of a shuttered window, like all of the windows on his album covers. kooken is an unusual adjunct to the Corwood discography, since it has not been officially enumerated in the catalogue and gives full credit to the crew.
St. Louis Friday marks the first Corwood DVD released without an accompanying album. The show was recorded on 21 March 2014 by the Representative, Sheila Smith, Matty Coonfield, and Joseph Hess. The one version included on the DVD is a black and white edit that uses stylized effects and has the ultra-bright contrast reminiscent of old television shows. It combines the amateurism of London Tuesday with the professionalism of Toronto Sunday.
The DVD's identification and packaging are also important additions to the Corwood aesthetic. As usual, nothing but Jandek is highlighted on the cover, but in this striking case, everything else has been artificially removed, so that his lone figure floats in a sea of blue, an important color referenced in many of his songs and used exclusively for the LP and CD labels. It also marks the first time that a cover has featured meaningful text. The seated Jandek leans his head against the pole of a handwritten protest sign, which, like a comic strip speech balloon, says, "STAMP OUT REALITY," one of the challenging hippie slogans from the psychedelic 1960s, the era suggested by Jandek's appearance. The text is confusing with regard to how the DVD should be interpreted, because, traditionally, text on an album cover gives the title of the release, but, according to Corwood's usual method for identifying live albums, the DVD is actually titled St. Louis Friday. On the other hand, several of his concerts present song cycles, such as the five-part "Duality of Self" on Toronto Sunday. Thus, while it remains unclear to what extent the text should be interpreted in relation to the songs, it provides a fitting motto for the shenanigans that occur on stage.
St. Louis Friday also includes a rare musical addition to the Corwood song list: a new version of "Fishing Blues" from Graven Image. The piece is unusual because the entire Corwood discography contains less than twenty songs in different versions, and even the reports from the unreleased concerts have referenced only a few examples. In this take, Smith plays an absurdly random snare over the Representative's twanging guitar. The rest of the improvised show includes instrument swapping while Smith and the Representative take turns on lead vocals; even Coonfield sings a verse during his stint at the drums on the vicious redneck daydream, "Got My Dog."
Jandek: Brussels Saturday (2015)
The cover of Brussels Saturday, a live action shot from the raucous performance, is the first Corwood cover to depict other human beings besides Jandek (or store mannequins). It concludes the journey started by the hurrying artist from Blue Corpse.
In addition to his own work, several films have used Jandek's music in the soundtrack. Independent New Zealand filmmaker Colin Hodson featured several Corwood songs and CDs in Shifter (2000). Jandek was represented by his album covers and music as the indulgent but non-participatory subject of the documentary, Jandek on Corwood (2002), by Chad Friedrichs and Paul Fehler. Part of Looking Forward (2005), Corwood's collaboration with the artist team masumi.raymond, was a short film that used the title track from The Beginning (Corwood 0766, 1999). A humorous animation of the a cappella track, "I Went Outside" from Put My Dream on This Planet (Corwood 0767, 2000), was included in the third episode of Scott Bateman Presents Scott Bateman Presents (2007).[3] Jandek has again become the subject for another pair of filmmakers, Ashkan Soltani and Criag Matarrese, who filmed his performance in Mankato, Minnesota, on 20 October 2012 for the short documentary, Tuning the Pulse (2013), and most recently completed the full-length I Know You Well (2014), about a later show in Minneapolis, Minnesota, from 31 October 2013. Ultimately, Corwood's expanding activities – directing, editing, producing concert films, revisiting the past discography, discontinuing certain features of the singular and isolated aesthetic – hopefully point toward even further work in film and other media.
[1] For this information, see: www.imdb.com/title/tt0902294/.
[2] See: http://video.klru.tv/video/2365357311/.
[3] See: https://www.youtube.com/watch?v=h97Zh72Qvm8.
?
Selected Corwood Filmography
Glasgow Sunday (Corwood 0779 DVD, 2006)
London Tuesday (Corwood 0793 DVD, 2009)
Toronto Sunday (Corwood 0803 DVD, 2011)
kooken (2014)
St. Louis Friday (Corwood 0816, 2014)
Brussels Saturday (Corwood 0817, 2015)
Selected Other Filmography
Shifter (2000)
Jandek On Corwood (2002)
Looking Forward (2005)
Scott Bateman Presents Scott Bateman Presents (Episode Three, 2007)
Tuning the Pulse (2013)
I Know You Well (2014)
For Nikolai Sadik-Ogli's Mustekala review of Jandek's concert on 8 January 2011 in Irvine, California, see: http://mail.mustekala.info/node/35942.
Update 2.8.2016:
Since this essay was originally published, an important addition to the Jandek filmography was recently released: Episode 37 of the "Live from SugarHill" series documents a performance from 27 December 2012 with David Keenan on drums and Heather Murray on bass and vocals, both of whom have played in many concerts with Jandek. SugarHill is one of the oldest and best known music studios in Houston, Texas, and Jandek has used their engineer, Andy Bradley, to master his home recordings for most of the albums. The show was filmed with seven cameras and a live audience in attendance, and the video concludes with an interview with the two guest musicians about their collaborations with Jandek and Bradley, who is introduced as a representative from Corwood Industries. Watch the show at http://sugarhillstudios.com/2016/06/24/live-from-sugarhill-37-jandek-releasing-soon/.